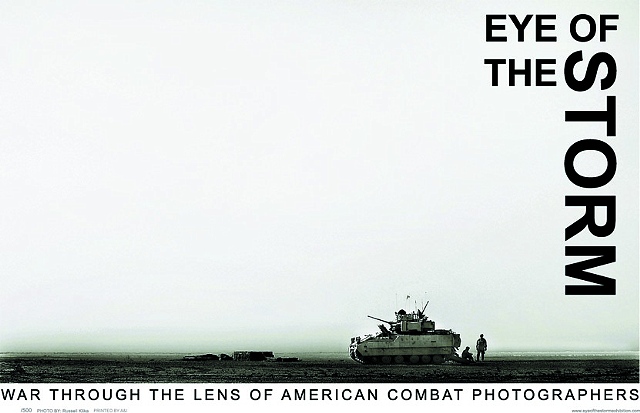 Eye of the Storm: War through the Lens of American Combat Photographers is an exhibition benefitting injured service members. The show is comprised of photographs taken by enlisted combat photographers, a perspective not often seen by the general public. Images were captured during the recent campaigns in Iraq and Afghanistan.
Photographers:
Army Staff Sgt. Russell Klika
Air Force Staff Sgt. Stacy Pearsall
Air Force Master Sgt. Andy Dunaway
Air Force Staff Sgt. Jacob Bailey
Air Force Staff Sgt. Cherie Thurlby
Air Force Tech Sgt. Jeremy Lock
Army Staff Sgt. Michael Pryor
Marine Corporal Samuel Corum
Navy Petty Officer First Class Michael Watkins.
Curator: Dane Jensen
Exhibition Director: Micki Meng